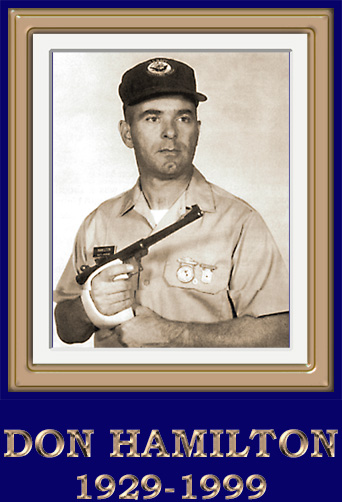 The Hamilton 2000 International Pistol Matches are named in memory of Donald Hamilton.
Don began competitive shooting in 1959 at the US Naval Station in South Weymouth, Massachuesetts, and was a member of the US Navy Team until 1980. In 1966, 1968 and 1969 Don won the Inter-Service Championships at Lackland Air Force Base in San Antonio, Texas.
Don won the Outdoor National Championships for Conventional Pistol in the years 1965 through 1969, and won the Indoor Sectional Championship in 1970, 1978, and 1980. He set the National Record in 1969 with 266X which still stands today, 31 years later.
Don's long and illustrious shooting career also included approximately 150 International and Conventional Pistol national records.
Don began International Shooting in 1962 and was a member of the US National Team from 1966 to 1992. He was on the 1968 and 1980 Olympic teams and was an alternate for two other Olympics as well as a member of many World Championship, Pan Am and World Cup teams. Don won the Gold Medal in Centerfire in the Pan Am Games in 1967 and the Silver Medal in Air pistol at the Pan Am Games in 1979.
Don was always very helpful and approachable and served as a motivating force behind International shooting in the northeast. A quote from Don's long time friend Ed Moriarty describes Don Hamilton very well: "He set numerous records and strived to help others improve their ability to their fullest capacity. He was a competitor who had honesty, loyalty and humility."
The Donald Hamilton memorial matches are a fitting way for us to pay tribute to this top competitor and fine gentleman.
Just a few of Donald Hamilton's accomplishments:
| | |
| --- | --- |
| 1967 | Pan American Team, Gold Medal for Center-fire |
| 1968 | US Olympic Shooting Team |
| 1970 | World Championships, Phoenix AZ |
| 1978 | World Team, Seoul Korea |
| 1979 | World Air Gun Team, Seoul Korea |
| 1979 | Pan American Team, Silver Medal for Air Pistol |
| 1980 | US Olympic Shooting Team (boycott year) |
| 1980 | Competition in China, 3rd no medal |
| 1981 | Pan American Team, Rio de Janeiro |
| 1983 | World Air Gun Team, Innsbruck Austria |
| 1985 | Pan American Team, Dominican Republic |